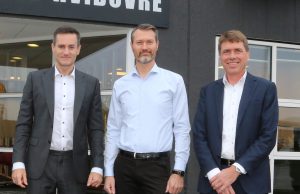 On November 9th , Dencrypt had the honour to host Mr Rasmus Jarlov, the Danish Minister for Business, Industry and Financial affairs, at the Copenhagen office to discuss Dencrypt technologies and business conditions for SME's in Denmark.
It was a unique opportunity to demonstrate our encryption technology and products for secure mobile communication, followed by informal discussions on aspects of cybersecurity and on the problems and opportunities facing start-ups in Denmark.
From left: Mr Rasmus Jarlov, CEO Hans Hasselby-Andersen and COO Søren Sennels.